Fluorograph (X-ray system for chest). X-ray Radiology System BreeZe EBP-D01
The BreeZe EBP-D01 diagnostic x-ray machine (fluorograph) (manufactured by Arcom International, S.R.L., Italy) is designed for general X-ray imaging of patients in a standing or sitting position on a chair, hospital gurney or wheelchair.

The system is recommended for use in medical institutions or departments of pulmonology and phthisiatrics for chest X-ray (fluorography).
A fixed focal length of 150 cm and motorized up and down movement allows you to take the following shots (exposures):
• rib cage;
• abdomen;
• scull;
• spinal column;
• limbs.
BreeZe EBP-D03, ARCOM - 1
BreeZe EBP-D03, ARCOM - 2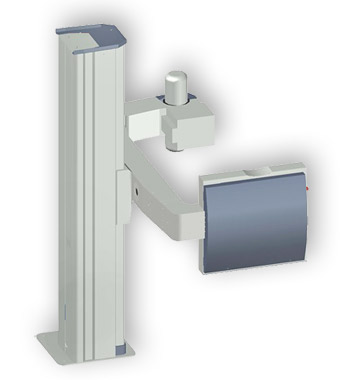 BreeZe EBP-D03, ARCOM - 3
BreeZe EBP-D03, ARCOM - 4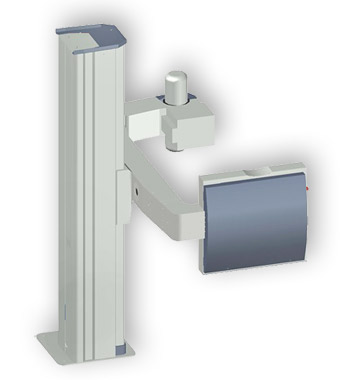 Complete set of X-ray diagnostic machine BreeZe EBP-D01:
1. Tripod EBP-D01
The EBP-D01 BreeZe x-ray diagnostic unit consists of a column on which a non-rotating console is fixed.
A digital X-ray image detector and an X-ray emitter are located on the same axis of the console.
X-ray collimator
Optica-20 (Varex USA)
or R-302A (Ralco Italy)
Focal length tube-detector
1500 mm
Electro-mechanical vertical movement of the arm with emitter and detector
1420 mm
Buttons for controlling the electric drive for moving the console up and down are located both in the emitter zone and in the detector zone
Lower position of the center of the radiograph from the floor
380 mm
Upper position of center of radiograph from floor
1800 mm
Embedded X-ray raster
Option
Automatic exposure control device (AEC)
AEC ionization chambers (Varex USA)
2. X-ray power supply
X-ray power supply device (high voltage generator) CMP200 (CPI Canada), 32 kW, including AEC (automatic exposure control function), membrane generator control console.

Due to the high conversion frequency, 400 kHz, it has stable output signal parameters.
Power supply
400 V±10%, 50±1 Hz
Output power, kW
32 kW
High voltage conversion frequency
400 kHz
Anode voltage range
40-125 kV
Anode current range
10-400 mA
Exposure time range
0.001 ÷ 6.3 s
(optional – up to 10 s)
X-ray tube overload protection
Four programming modes available:
1) kV/mA/time;
2) kV, mA;
3) kV when working with the automatic exposure control function AEC;
4) Anatomy Mode
AEC auto exposure control function
Clinical dosimeter connection function
Displaying the value of the dose-area product on the generator control panel to determine the effective doses to patients
High voltage manual button
At the request of the customer or technical specifications, it can be equipped with generators CMP200 40kW, or generators with capacitor storage CMP200EA 32 kW, 40 kW. It is also possible to complete with generators of other manufacturers similar in characteristics.
3. X-ray emitter X42 in C40 housing (IAE, Italy)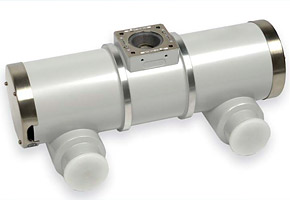 | | |
| --- | --- |
| Maximum tube voltage | 130 kV |
| Heat capacity | 150kJ (200 KHU) |
| Small focal spot | 0.6 mm |
| Large focal spot | 1.5 mm |
| Power at small focus | 17 kW |
| Power at a large focus | 47 kW |
More details >> X42 X-ray emitter in housing C40. p>
4. Detector Exprimer EVS-4343G, DRTECH
Flat panel digital radiographic image detector Exprimer EVS-4343G (DRTECH, South Korea).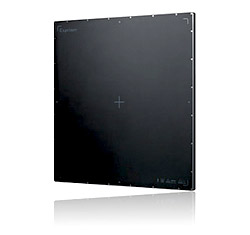 | | |
| --- | --- |
| Working area size | 430 x 430 (17″x17″) |
| Pixel Size | 140μm |
| Matrix Size | 3072 x 3072 Pixel |
| Sensitivity (DQE) | 65% |
| Resolution | 3.57 lp/mm |
| Wired Data Interface | Gigabit Ethernet |
| Image acquisition time | No more than 4.5 seconds |
| Detector size | 460 x 460 x 15 mm |
| Weight with battery | 4.5 kg |
It is also possible to complete with flat-panel detectors of other manufacturers similar in characteristics and dimensions.
5. Automated workplace of X-ray laboratory assistant
6. Automated workplace of a radiologist
Automated workplace of a radiologist including

monochrome Jusha M260G medical diagnostic monitor, 21.3″ 2MP for x-rays.

7. AES ionization chambers (Varex USA)

8. Dosimeter VacuDap


Radiation dose control device – dosimeter VacuDAP (VacuTec, Germany).

9. Medical DICOM Printer


Medical DICOM printer to obtain hard copies of radiographs on a special x-ray film Drystar 5302 (AGFA, Belgium) (option).
This system is completed Dose Area Product Measuring System VacuDAP and Ionization Chambers AEC Sensor, the use of which is mandatory according to article 17 the Law of Ukraine «On Protection of People against lonizing Radiation».