Attractive and elegant
Photocell activation
Smooth and silent
Advantages
Maximum excursion available on all movements
"Dead Man" double safety on all movements
Light structure
Easy and fast to install and maintain
Structural resistance proved with severe tests
AIN Standard Bucky Table
Additional information
Weight
152 kg
Maximum patient weight
200 kg

Available image detectors:

Potter Bucky
Longitudinal movement
550 mm
Film-tabletop distance
70 mm
Cassette size
up to 43×43 cm
Flat Panel
Longitudinal movement
depending on flat panel model
Image plan-tabletop distance
depending on flat panel model
See the scheme » AIN Standard Bucky Table »
UPPER – Elevating Bucky Table
Additional information
Weight
220 kg
Maximum patient weight
200 kg

Available image detectors:

Potter Bucky
Longitudinal movement
550 mm
Film-tabletop distance
67 mm
Cassette size
up to 43×43 cm
Flat Panel
Longitudinal movement
depending on flat panel model
Image plan-tabletop distance
depending on flat panel model
See the scheme » UPPER – Elevating Bucky Table »
Accessories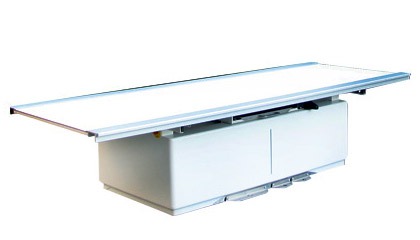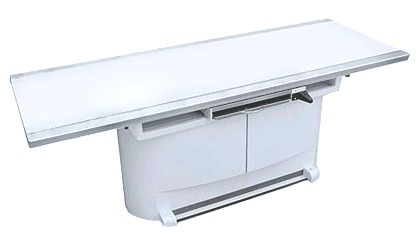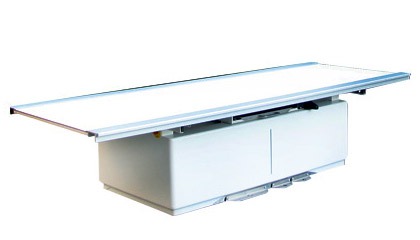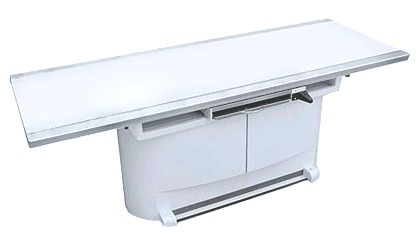 Pressing Band
Band with suitable support to fit the aluminium profiles.
Allows to press soft tissue and facilitates some patient positioning operations.
Handgrips
Mobile supports to help tabletop adjustment.
Handles
Mobile and removable supports to help patient stability during examination.
Lateral cassette holder
Support with mechanical fittings to position cassettes perpendicularly to tabletop surface and allow lateral exposures.
A.E.C.
Ready for installation of A.E.C. chambers.
Electrical and Functional Features
Maximum patient weight
200 Kg
Up/down speed
17 mm/sec (Upper only)
Movement command
Ergonomic foot levers on front side
Brake commands
Ergonomic foot levers on front side
Power supply
230 Vac (±10%)
Frequency
50/60 Hz
Max adsorption
0,9 kVA
Installation type
Permanent
Classification
Active Class IIb Medical Device
Applied Part
Type B
Working Environment
Hospital and Clinic
Operative enviroment
Temperature range: 10°C to 50°C
Relative Humidity: max 80%
Atmospheric Pressure: 700 hPa to 1100 hPa
Mechanical Structure
The mechanical structure of all elements is manufactured following a careful plan to grant quality, reliability, strength and resistance.
The installation is fast and easy, motorized movements have soft-start and soft-stop to allow a smooth adjustment. All safeties are "dead man".
UPPER table has variable height for radiological diagnostic purposes.
The lower position of the table helps positioning of patients with reduced mobility and the wide movement of the tabletop allows different examination.
ARCOM Bucky tables are the ideal solution for common and uncommon X-ray investigations.
Features could change with no advice.